Tiernay Turbines TT10 Gas Turbine Engine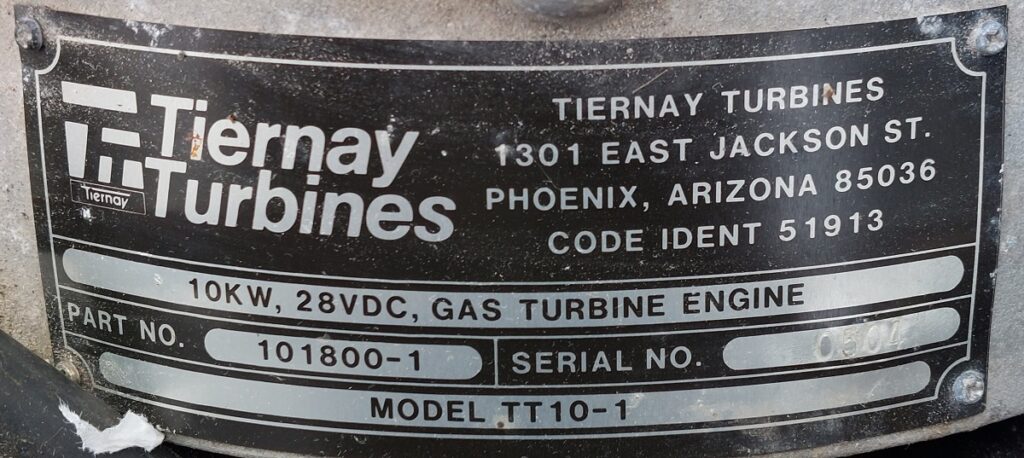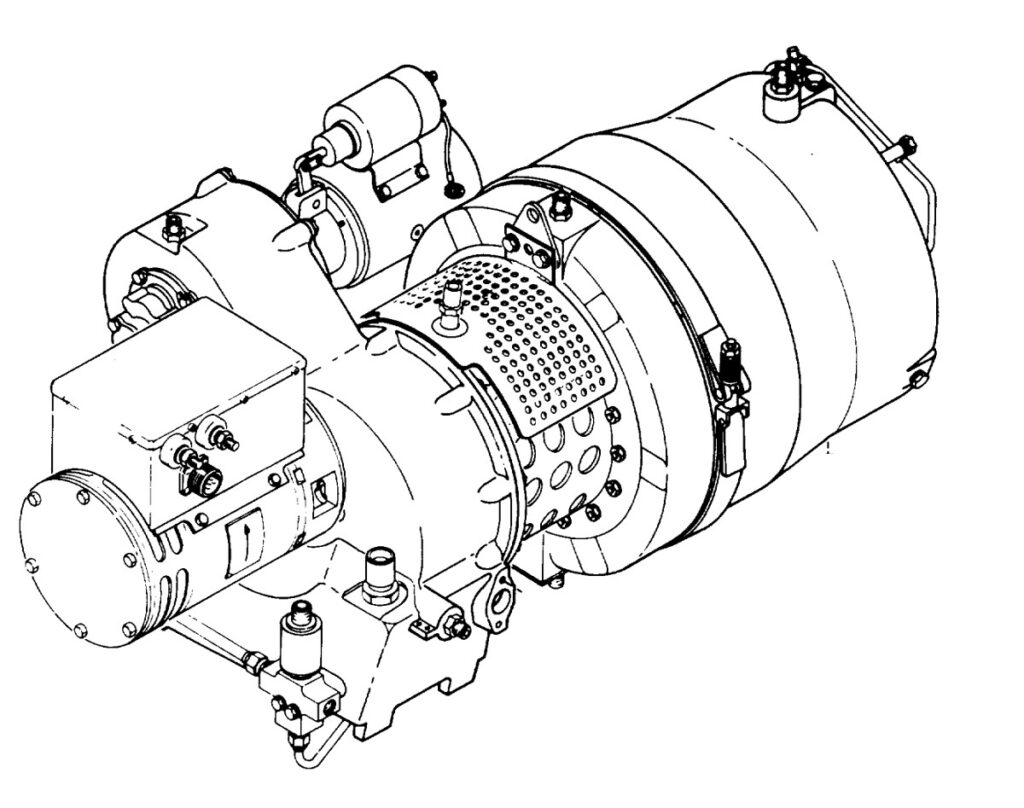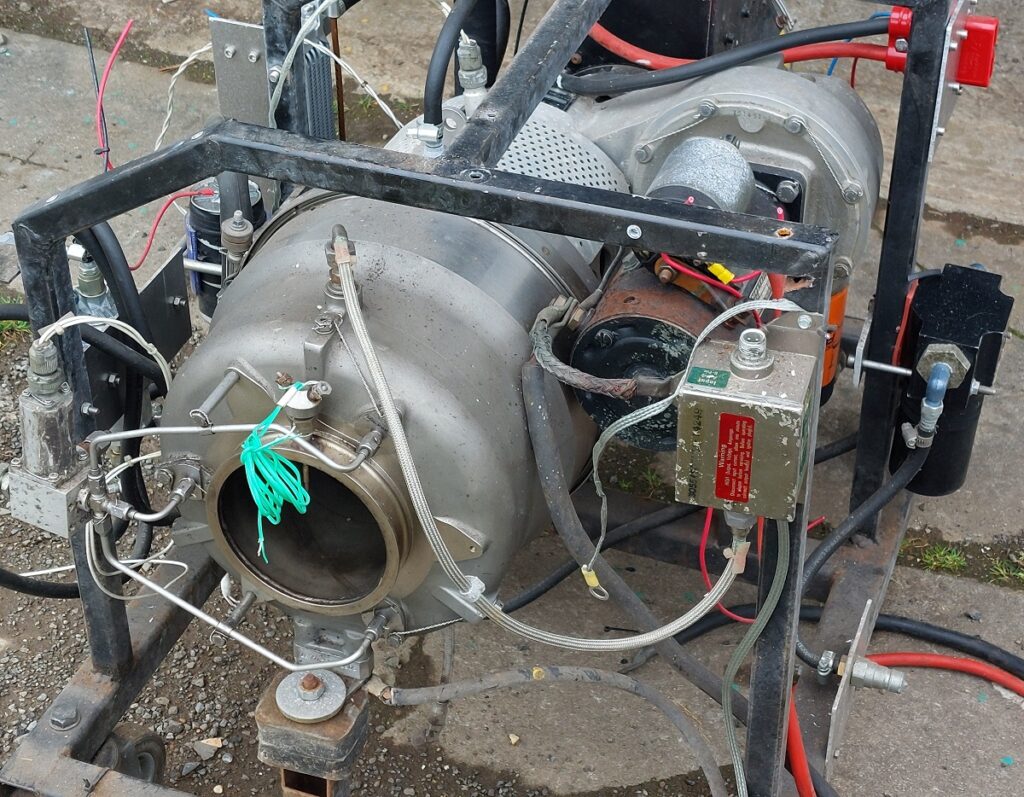 The Tiernay Turbines gas turbine is a small single shaft auxiliary power unit style unit. Built in the USA these units were employed as trailer mounted DC generator sets providing 28VDC at 10Kw maximum load. A nicely built and self contained generator set with it's own fuel tank and battery for starting itself. A very rare unit not found outside the USA but relatively common inside it. These gen-sets were often sold at surplus auction etc. They are sometimes miss understood and sold as high thrust jet engines but actually they are rated around 10Kw or 15HP. In reality it's likely an engine could supply around 40HP depending on the environmental conditions. The gen-sets are sometimes purchased and dismantled making the engine relatively difficult to use correctly.
The TT10 engine consists of a simple back to back overhung shaft arrangement with radial compressor and radial inflow turbine. The unit is fitted with just three burners and a reverse flow combustion chamber. Conventional lubrication is employed with a reduction gearbox and a DC generator running at 12,000 rpm. Rated engine speed is 50,000 rpm. Fuel control and metering is achieved with a simple electrically driven pump and electronic control unit. These units are often lost or discarded when a gen-sets is dismantled!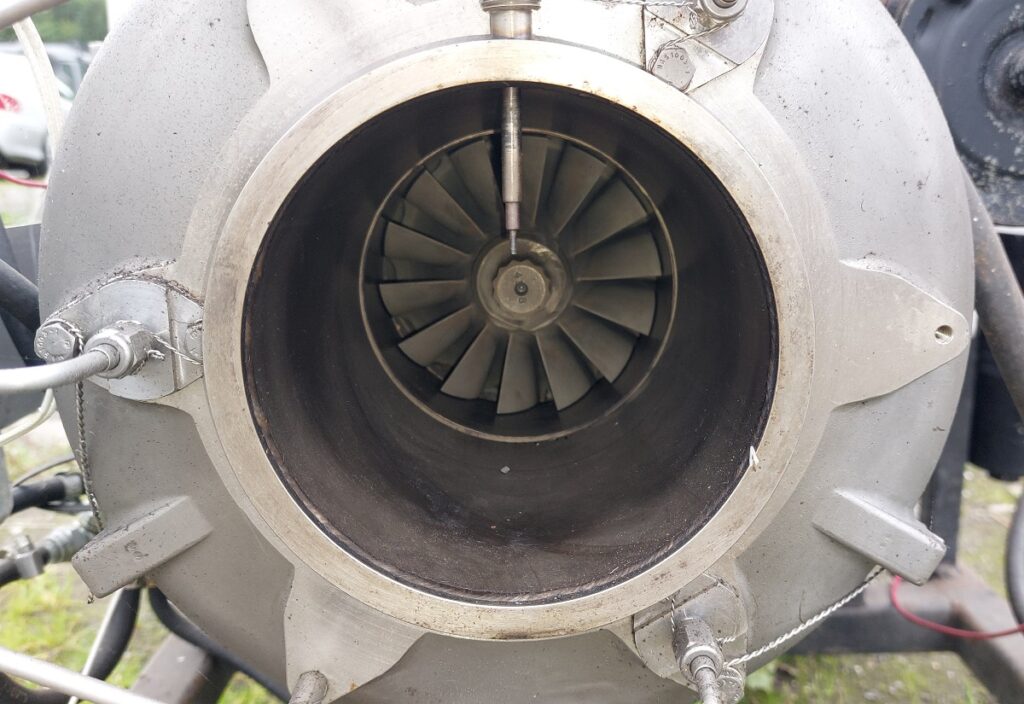 Tiernay TT10 Specification
Power Output................................…..........……………………………….………….......10Kw
RPM...................................…......….............……….………………………...................50,000
Compressor...............................................................…………….......centrifugal impeller
Combustion Chamber................reverse flow annular type with 3 atomising burners
Turbine..................................................….….…………………..........radial inflow impeller
Starting......................................................…..................................…........electric starter
Ignition.................................................................……........high energy plug and exciter
Fuel System................electric metering pump with electronic control unit/governor
Layout...................................................overhung single spool with reduction gearbox
Applications..................................................................TT10 in MEP362A generator set