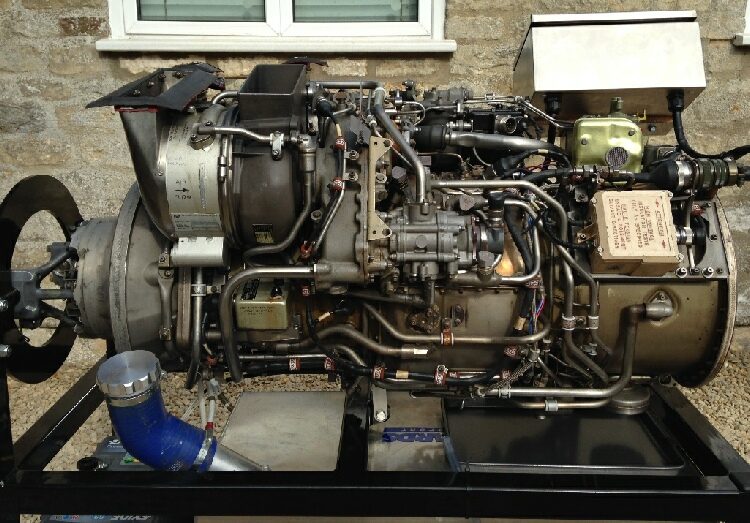 Apart from the Napier Gazelle engine the Rolls Royce Gem is the only truly British helicopter engine. The engine originally known as the RS 360 was developed in the early 1970s for a new multi role Westland helicopter. The engine is a complex British answer to the Lycoming T53 or perhaps the GE T700/CT7, the engine is a three spool machine featuring mechanically independent HP and LP compressors and a power turbine. The engine is of modular construction consisting of seven modules, a reduction gearbox module, a turbine shaft module, a LP compressor module, an accessory module, a HP spool and combustion chamber module, LP turbine module and a free power turbine module.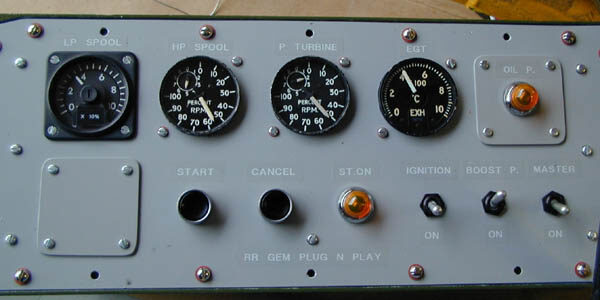 The Gem is a magnificent self contained engine, the 510 engines with mechanical fuel controls are suitable for ground running as they are equipped with power turbine governors. The engine is equipped with standard tachometer generators for HP and PT spool speed measurement and the LP spool is equipped with a reluctance type magnetic speed probe. In addition to hydro-mechanical fuel controls an electronic protection unit monitors power turbine inlet temperature and LP spool speed, the unit has the ability to reduce fuel flow to keep the engine operating within safe limits.The output shaft speed of this engine is a useful 6000 rpm with a three spoke flexible coupling.
The Gem 530 adopts a Hamilton Standard electronic fuel control system consisting of an engine mounted simplified hydro-mechanical control and an airframe mounted electronic engine control (EEC). The EEC accepts signals from sensors mounted on the engine and drives a stepper motor built into the hydro-mechanical control unit resulting in precise fuel metering under all engine conditions. Ground running of the Gem 530 without the EEC is tricky as there are no governors, limited control is possible by using the engine mounted power lever.
A slightly unusual engine the Gem appears to have limited success and is not fitted to many different aircraft types. It is also an obsolete design, a possible similar replacement is the collaboratively produced RTM322 unit.
RR Gem Specification/Characteristics
Power Output...........….......................…......…………………………………….....900-1200 BHP (Depending on the Version)
RPM..............….……………...................…......……………….................Nh= 43,400rpm Nl=37,600 rpm Npt= 27,738rpm
LP Compressor……………......................................………………………………………................4 Stage Axial with Bleed Valve
HP Compressor...….…...........................................…………………………………………………………….........Centrifugal Impeller
Air Mass Flow..……….................................................……………………………………………………………….................7.5 Lbs/Sec
Overall Pressure Ratio..…..................................................……………………………………………………………………………......12:1
Combustion Chamber..………….....................……………………......Reverse Flow Annular with 17 Vaporising Burners
Compressor Turbines….…………............................................…………………………………………………….....1 Stage Axial each
Power Turbine.......2 Stage Axial with reduction gearbox in the nose, output shaft speed 6164 rpm ratio 4.5:1
Layout............….….....................…......Coaxial Shaft Three Spool with Accessory Gearbox, Modular Construction
Starting..............................................................….………………………………………………………………….........Starter Generator
Ignition..........….……..................……..........………………………….....................Two Torch Igniters with High Energy Plugs
Fuel system.....Gear pump with Hydro-mechanical or Electronic Fuel Controls, Electronic Protection System.
Oil System.................Return System with Pressure and Scavenge pumps, Engine Mounted Tank and Oil cooler
Weight...........…..……………………...................................................…………………………………………………….................407 Lbs
Applications........….………………………...................................……………………….............Two in Westland Lynx Helicopter